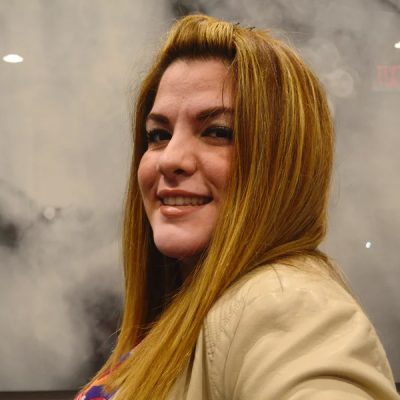 Dr. Nazanin Ghahremani was born in Tehran, Iran. She remembers living in different cities in the United States as a child and finally settling in San Antonio, Texas where she considers being her hometown. While growing up in different parts of the world, Dr. Ghahremani was exposed to various cultures, religions and customs. She learned to appreciate people from all kinds of backgrounds.
She knew she loved the interactions she had with people and she decided that the only way she would be satisfied from her future career is that she chooses one that serves the community. She also knew that creating beautiful smiles for all ages was her passion from the time she volunteered to work at a Dental office while obtaining her undergraduate degree. The most satisfying part to her was seeing patient's come in the Dental office in pain and leaving the office feeling happy with no pain.
Other cases that inspired her were seeing patients crying tears of happiness from obtaining new sets of Dentures. All these experiences fueled Dr. Ghahremani's passion to pursue and excel her career as a Dentist. She also loves giving back to the community, where she volunteered at Heaven for Hope, a place of hope for people in Bexar County experiencing homelessness. Dr. Ghahremani loves to take care of her patients like they are her own family. She has a gentle touch with a friendly demeanor and will tailor Dental treatment to the specific wants and needs of her patients.
Dr. Ghahremani received her Bachelor's of Biology and Minor in Chemistry with Honors from the University of Texas at San Antonio. She pursued her dream when she attended The University of Texas Health Science Center at San Antonio Dental School and obtained her Doctor of Dental Surgery Degree.
While attending Dental School she met the love of her life, Dr. Francisco Rubio. When she is not working she loves to spend time with her Fiancé and her family. Dr. Rubio and Dr. Ghahremani are currently planning their wedding and they cannot wait to start a family together.
"Absolute joy when I'm able to make a difference in someone's life just by a simple smile"
Dr. Nazanin Ghahremani
Dr. Francisco Rubio was born in the Rio Grande Valley but led much of his childhood migrating to northern states with his migrant parents for seasonal agricultural work until he graduated high school. Dr. Rubio earned his undergraduate degree from The University of Texas Pan American before attending The University of Texas Health Science Center at San Antonio to earn his dental degree.
Dr. Rubio chose to pursue dentistry to serve the community by providing oral health care and restoring smiles. Dr. Rubio enjoys dentistry and strives to provide optimal quality and service with compassion and empathy.
Dr. Rubio is a movie fanatic and enjoys watching all types of film genres. He is also a spurs fan and enjoys watching the San Antonio Spurs rack up points on the court. Dr. Rubio enjoys music of different genres from Pop to Country. After a long week, you can catch him riding his bicycle through out Leon Creek Greenway Trails. If that wasn't enough bicycle riding, Dr. Rubio indulges in motorcycle riding in the open country with Fredericksburg and Medina Lake being some of the final destinations.
Dr. Rubio enjoys Mexican, German, Mediterranean, and Middle Eastern cuisine but can be easily persuaded to choose pizza over anything. Dr. Rubio also enjoys unwinding with his fiancé Dr. Nazanin Ghahremani, family and friends over brewed Chai tea and stirring up old memories while creating new ones.
"It is always a delightful experience to help patients obtain a healthy and beautiful smile"
Dr. Francisco Rubio